Following our announcement of Sorbus International's appointment as exclusive UK distributor for Pocket Diagnostic, we asked their founder, Phil Wade, about the industry's view of plant disease lateral flow tests.
"We have known about these tests for many years. Unfortunately, the significant disruptions caused by the COVID-19 pandemic stopped us from working with Pocket Diagnostic earlier. However, we're now delighted and excited to have been appointed the UK Distributor for Pocket Diagnostic. The team is looking forward to supplying these handy lateral flow tests (LFT), for the detection of plant diseases, to our clients.
"Sorbus have been in the industry for a long time. We supply specialist products to the arboriculture, forestry, horticulture sectors as well as the utility sector. Our customers include many local authorities, public and private parks/landowners, Consultants, Contractors, and utilities involved in the telecoms and power networks. We also supply overseas customers too."
"We see the Pocket Diagnostic range as being an integral part of our innovative tree/plant care range which we launched several years ago. Our customers continually ask us for solutions to combat the ever-increasing threat of pathogens in damaging our native trees and plants. Lateral flow tests are certainly part of the solution."
Not Just For COVID Testing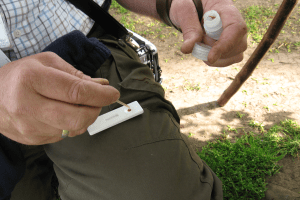 "Due to Covid, everyone now knows what an LFT is and indeed have used one themselves. They are intrigued to see this technology being used for other applications. But as we know, plant health LFTs are not new and have been used for many years. The Pocket Diagnostic range has been in operation since the 1990s. So, we see a mixture of people familiar with the tests and some who are not."
"However, early detection of a problem plant disease is key for fast decision-making and interventions for dealing with them. At a recent College presentation introducing the LFT range – specifically the test for Phytophthora – it was mentioned by a delegate, an experienced local authority Tree Officer and College lecturer, that these test kits should be an essential part of a tree assessment. Stating that very often visual assessment alone does not provide the entire picture. By the time symptoms of pathogen-attack are visible, it can be too late to do anything about it."
"Apart from including the Pocket Diagnostic range in our proactive presentations, we have also started to show it at several trade shows where the response has been very positive. We're pleased to see that these people have ordered tests from Sorbus."
Key Take-Away
When time is of the essence, the ability to test anywhere can make a huge difference to catching a disease before it gets worse. There are multiple benefits of using rapid tests during plant disease management, but ultimately speed of detection is key. Lab testing serves a purpose, but it can be time consuming getting results. With in-field tests, results are obtained quickly: meaning dealing with the problem can start there and then.