Pocket Diagnostic® On The BBC
Screening crops and trees for commercially damaging plant diseases has always been an important part of crop and forestry management. Something which was highlighted on the BBC's Countryfile programme (Forest of Dean Remembrance Episode, Sun, 11th November 2012).
Although the Ash Dieback Outbreak hit the headlines at the time. Under the radar there was, and still is a constant battle against Phytophthora, which has been ongoing for years. In fact, we discuss the link between climate change and Phytophthora in another article.
Phytophthora, which means plant destroyer, is a disease which not only affects trees, it can also affect potatoes, tomatoes and rhododendron. During the Remembrance episode of Countryfile, the show profiled the hard work being carried out in the Forest of Dean by the Forestry Commission to protect the woodland from plant diseases. To help achieve this goal the Forestry Commission used the Pocket Diagnostic® for detecting Phytophthora.
Once the disease has been detected the authorities tend to fell the trees. In this instance, confirming the presence of the disease was achieved by using the Pocket Diagnostic® Phytophthora rapid test kit. The programme showed just how the Forestry Commission uses the Phytophthora rapid test to detect the devastating disease.
The episode is no longer on the BBC iPlayer. However, we have some still images from the programme below. For those who have not seen Countryfile. The show has been running on the BBC since 1988 and is dedicated to all issues concerning agriculture, horticulture, wildlife, farming, growing and the environment in general.
Mick Biddle takes the sample with a knife underneath a layer of bark.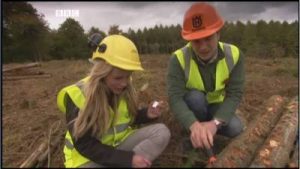 After breaking the sample up into tiny pieces it is dropped into the buffer bottle containing ball bearings.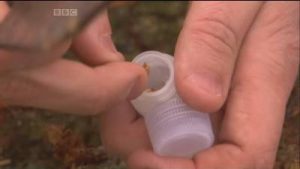 After shaking the buffer bottle and fully macerating the sample, to release as much of a target pathogen as possible. 2 or 3 drops of the buffer with the sample is placed into the device. Advice on how to use the test can be found on our website.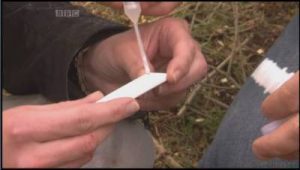 On this occasion the result was negative and the tree did not contain Phytophthora. However, as surrounding trees did contain Phytophthora and because Phytophthora can spread quite easily, into all kinds of plants and crop with devastating effect, the Forest Commission had no choice but to fell the trees in the area.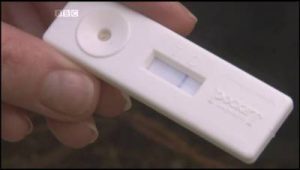 More information about the Forestry Commission and the work they do can be found on their website.