Ralstonia solanacearum, the causal bacteria of Brown Rot, is a quarantine plant pathogen and features on the EPPO list of quarantine pests owing to the significant damage it can cause to potatoes, as well as other host plants.
With this in mind, and considering the rise in demand for our Ralstonia solanacearum ("Ralstonia") rapid tests we have collated some information from leading authorities to bring you practical tips for managing brown rot in potatoes.
Managing Brown Rot In Potatoes
Brown rot is tuber borne and thrives in warm temperatures and moist soil conditions and can cause yield loss by rotting the tubers.
Brown rot can spread in infected seed potatoes or via irrigations systems. So, in order to help reduce the risk of brown rot infecting crops or spreading throughout a crop the following steps are worth following.
Only plant and distribute certified potato seed
Try to keep irrigation systems as clean as possible
Clean and disinfect all equipment and clothing whenever possible
Practice good crop rotation
Ensure any infected plant material is removed and destroyed immediately
Use rapid tests regularly throughout the season to detect the presence or absence of brown rot
Rapid Testing For Brown Rot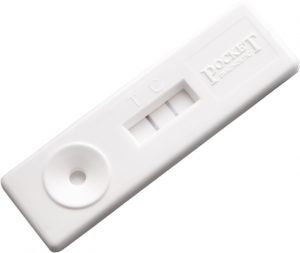 Using rapid tests on a regular basis is a great way of getting an early indication as to whether action needs to be taken against the effects of Brown rot. Rapid tests produce results in minutes, so action to combat the effects of Brown rot can take place immediately.
If you get a positive result for Ralstonia then it is a clear indication the infected plant needs to be removed and destroyed immediately. Also, it creates the opportunity to test plants in the surrounding area of the infected plant for signs of the pathogen spreading.
It is worth noting that our Ralstonia solanacearum rapid tests can work with other plants, not just potatoes. So, if you work with Banana, and are concerned about moko disease, or you grow pelargonium, a rapid test for Ralstonia could be very useful.
What To Do If You Find Ralstonia Solanacearurm?
Ralstonia solanacearum is a quarantine pathogen in the Europe Union and needs to be dealt with and destroyed in the appropriate manner. Below is a list of organisations that can help with the management and removal of brown rot.
| | |
| --- | --- |
| United Kingdom | Animal and Plant Health Agency |
| Republic of Ireland | The Department of Agriculture, Fisheries and Food |
| European Union | European and Mediterranean Plant Protection Organisation's |
| USA | US Department of Agriculture or the nearest University Extension Center |
| Canada | Natural Resources Canada. |
For more information about our Ralstonia solanacearum rapid tests please feel free to contact us.