Do you have Phytophthora-infected plant material?
Many plant health experts will probably be able to spot Phytophthora symptoms from a thousand yards. However, the reliance of detection by sight alone may not be enough.
Several species of Phytophthora, such as Phytophthora ramorum, feature on the European and Mediterranean Plant Protection Organization (EPPO) list of quarantine pests. So it is important to know if disease symptoms displaying on your plant or crop are definitely those of Phytophthora.
Has the Plant Destroyer invaded yet?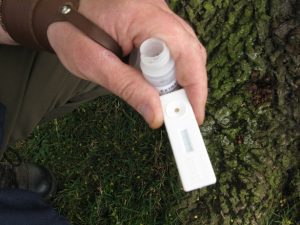 If you are a forestry manager, crop advisor or plant health inspector you will be on the lookout for the presence of a Phytophthora on a daily basis. You will also know the tell-tale signs of its presence and what the optimum weather conditions are for its survival.
However, you will more than likely need to provide evidence of the presence of a pathogen to landowners or authorities. Destroying plants or crops owing to a wrong diagnosis via sight could be costly. Also, national or government plant disease diagnosis protocols may require confirmation of the presence or absence of Phytophthora for routine management, data collection and/or exporting purposes.
A quick and easy way of confirming the presence of Phytophthora is by using a Phytophthora rapid test. Based on similar technology to a pregnancy and COVID-19 tests, these easy to use tests can detect many different Phytophthora species in minutes in different plants such as potatoes, tomatoes, rhododendrons, oak and larch.
Low detection levels
Using an in-field rapid test such as Pocket Diagnostic® means you are able to routinely test for Phytophthora on a regular basis, using a simple but effective method. In addition, as the Pocket Diagnostic® Phytophthora rapid test has a good limit of detection these tests can be an early warning sign in preventing a big problem.
See how to use a Phytophthora rapid test and see how they can help you to detect Phytophthora-infected plant material.
Phytophthora Symptoms
There are several different species of Phytophthora with varying symptoms. This video published by Forestry Commission provides a guide on how to detect Phytophthora ramorum.
For symptoms of Phytophthora infestans the University of Idaho has collated information on several potato diseases including Late Blight (Phytophthora Infestans).