Those who grow plants and trees will be well aware of the diseases that are a threat to yield. Of course, with this comes the need to fight these diseases with management strategies that are efficient and meet budget requirements. Therefore, in this article we discuss why using rapid tests for routine plant disease management could help to meet these needs.
Using rapid test for routine plant disease management
Plant disease management strategies involve focusing on avoidance, exclusion, eradication, protection, resistance and therapy. During a number of these phases, there is a requirement to test for the presence or absence of a disease. This can be done by laboratory or rapid in-field testing methods. However, there are a number of reasons why rapid tests should be considered.
Different plant materials such as leaves and woody materials can be tested at different points in the growing cycle
Rapid tests are easy-to-use and therefore minimal training is required
The portable tests can be used at any time when inspecting crops
Stakeholders can get real-time evidence about the presence or absence of a pathogen
The Biggest Benefits Of All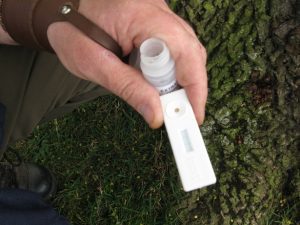 Profit margins tightening across all industries for numerous and well documented reasons. Therefore, streamlined and cost-effective processes and procedures are being sought in order to help achieve healthy profit margins. It is in this area where rapid tests could benefit those growers looking to reduce the cost of plant disease management and streamline their activities with the introduction of an easy-to-use and efficient testing tool.
In-field decision making
As rapid tests produce in-field results within minutes, this then enables the commencement of management strategies quicker than if a sample was sent off to the Lab. This fast decision making could be an obvious benefit to trying to maintain yield.
Reduced cost per sample
Because there is no need to send every sample off to the lab when using a rapid test it means the cost per sample can be reduced. For example, if you have 10 samples that need testing, the cost of laboratory testing could run into the £100s. Whereas testing 10 samples with a rapid test could be less than £100.
Who Benefits From Using Rapid Tests?
Rapid tests are used by a variety of professionals across the world. In our article, why use rapid tests for plant diseases? we highlight some of the different professions benefiting from the use of rapid tests.
Our Rapid Tests
Pocket Diagnostic® has a range of tests that can be used for a variety of plant diseases that infect plants and trees such as larch, oak, potato, tomato, apple, rhododendron and perennials.
Visit our plant disease rapid tests page for product information and ordering details.
If you would like more information about using rapid tests for routine plant disease management please contact a member of our team.